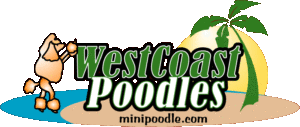 E-Mail Marsi if you have any questions! There is an online contact form below that you can use.
You can also reach us directly at westcoastpoodles@gmail.com
Or call
1 (760) 295-7228
Thank you for taking the time to speak with us. Marsi will usually reply to emails within 48 to 72 hours, or less.